SPHACTERIA - Sphagia
(Σφακτηρία)

NAVARINO Bay
Facing with
Pylos
city and closing
Navarino Bay
, the island of
Sphacteria
(also called Sphagia) is a huge natural barrier against the strong winds in the Ionian Sea and thus protects the Gulf of Pylos. Only two narrow passages permit access in to the bay: - in the south "the
Great Thouri pass
" (near the city Pylos) - in the north, the "
Sykia pass
" (facing the Koryphasion promontory
Koryphasion
, near
Voidokilia
bay).

This rocky barrier is made up of many islands, which are ranked as follows: - from the southern entrance of the bay, initialy you found
Tsichli-Baba
island (also called Pylos islet) with a huge arch, then the
Koutsounes
both rocks; just after, follows in alignment, the main island Sphacteria to cliffs falling precipitously into the sea (she measuring 4.6 km. long and about 135 meters wide).
At the center of the Bay of Navarino is the island of
Marathonisi
or
Chelonaki
(which in Greek means small turtle).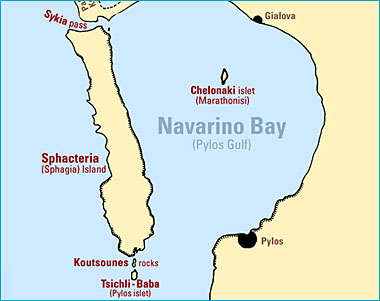 Area history

Sphacteria Island and Navarino Bay has been the scene of two famous battles:

• in 425 BC. during the Peloponnesian War, a naval battle took place in the bay between Athens and Sparta.

• in October 20, 1827 the naval battle of Navarino took place, where fleets English, Russian and French inflicted on the fleet turco-egyptian a defeat which would be decisive for the independence of Greece in 1832 (it follows this battle that diplomacy has decided the establishment of an independent Greek state).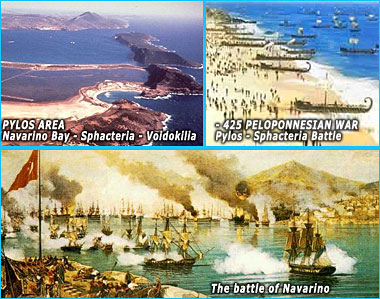 Excursion

During the summer, a day excursion with caïque or motor boat on the Sphacteria island is organized leaving the harbour of Pylos (inquire on the spot). It allows not only to admire the beauty of the islets and the main island, but also to visit the memories and monuments of naval Navarino battle and a few wrecks of ships sunk during the battle in 1827.